Friends and Family from everywhere have been joining Nala from time to time, however the permanent crew is consisted of 3 members:
Tefiti (Aka Princess)
Tefiti is 2 years old now and she has been on the boat since she was a baby . As the last kitten of the mother she has a small body and some defects , for that reason she was mistreated by her siblings and her mother .
Kleanthis (the captain) found Tefiti in a small Greek island called "Leipsoi" and every midday he would share his lunch with her for the few days he was there. when the time comes to leave Tefiti was nowhere to be found so he untied the lines and left without saying goodbye.
After almost 30 hours of motoring the wind picked up and kleanthis shut off the motor and hoisted the sails , then suddenly he heard a weird sound from the boat "Miaouuu", he spend few hours trying to figure out where the sound was coming from and in the end there was Tefiti, hidden into the locker behind the ruder post. How she manage to get there is still a mystery.
After one week at sea with her the decision to keep her was made and she was officially part of the crew. Tefiti by now has travel and visit more countries than the average traveler.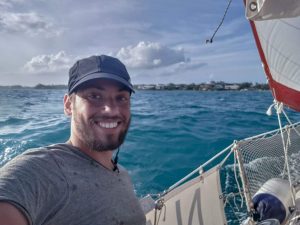 Stefanos Kekkas
Stef was born and raised in Munich, Germany. His roots lie in Igoumenitsa, a small harbour town in Greece, which he has been visiting since he was a child. Now he is studying Engineering Physics in the Munich University of Applied Sciences
In his younger days Stef used to play a lot of video games, that's also how he met Akis. It was not until a few years later that Stef discovered his passion for travelling and exploring. After visiting major european cities, such as London, Paris, Barcelona, Cologne he got invited by his old friend Akis to sail with him in the Ionian sea.
Together with his brother they met up with akis in the Marina of preveza, the three of them launch Nala and set sails. After that Stef has been joining Akis in his travel every year during his holidays.
Conceicao (Aka Sao)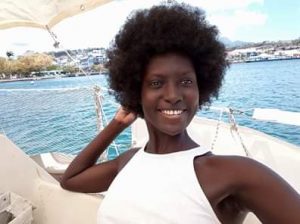 Sao was born in Guinea-Bissau (small country in West Africa coast followed by the unique Archipelago of Bijagos ) bordered by Senegal to the north and Guinea Conacre to the east and south .
She grew up in Lisbon (Portugal) where she spent 15 years of her life, moved to Paris and decided to move out after 1 year, Paris didn't conquer her heart. Still she was looking for the perfect place and tried the London lifestyle where she became a passionate professional bartender- mixologist but after 2 years still wasn't feel like home .
Sao met the Captain and now boyfriend Kleanthis during her holiday to Greece and kept in touch and spending the followed holidays together in different places in the med.
After a while she decided to accept his invitation to join the adventure of sailing lifestyle.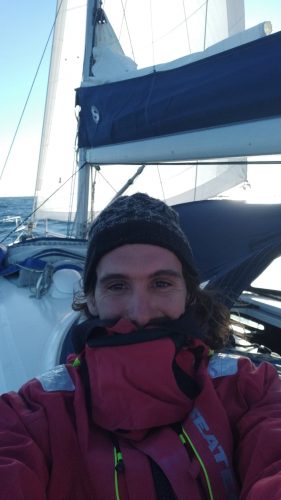 Kleanthis (Captain)
Kleanthis was born in Aroni , a small village in Greek island Creta, he spent his young years camping , horse riding , climbing and swimming. He always loved the sea but it was in his 18 years he got the first taste of sailing .
He was working on a Tanker ship as a Marine engineer when he got the chance to join a group of friends for sailing and there was when he fell in love with the activity. So once he completed the contract and went back to Creta he joined sailing school and a Racing team to learn more and joy better.
It was Almost two years later when Nala appeared on his search results. He made a list of 4 boats and among with his friend Kostas they drove 1800 km in 2 days looking on all of them.
Once he saw Nala he fell in love with her , she was ready for the long lasting journey he been dreaming of, so he bought Nala and brought her home for the last preparations before he untie the lines forever.