Nala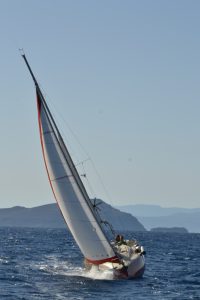 Nala is a beneteau first 26 built in 1984 . It is a light but strong cruiser racer. The clever interior design and with all the lines led back to the cock pit makes it a very comfortable and safe boat.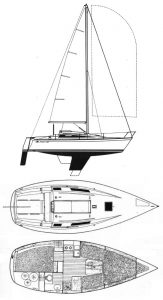 Nala's inventory  Consist of :
Galley:
2 Burner Stove
Fresh and Salt water Sink
Navigation Equipment :
Navtex NX-300 To receive weather Data
Raspbery Pi 3 with Opencpn maps
Radar Detector (Detects other ships Radars and sound an Alarm)
VHF Raymarine Model :ray54e
AutoPilots
Main Autopilot Raymarine Ev 100
Tiler Arm Replacement : St 4000
Emergency Auto Pilot
Sails Inventory :
Elvstrom Mainsail (Click To Read More about our experience with Elvstrom)
Elvstrom Genoa 150 %
Elvstrom Symmetric Spinnaker
Quantum Genoa 130 % Lighter Fabric
Quantum Mainsail (Backup mainsail )
Quantum Trysail
Quantum Storm Jib 3m2
Storm Jib 4m2
Read more about our sails setup here
Propulsion
Nala is powered by a Volvo Penta md5b 8 hp Diesel inboard original engine 1984
The dinghy is powered by a Tohatsu 2.5 hp 2 stroke engine dated back to 2001
In case of emergency we do have a 2 meters oar that can be used to move the boat. Read more about our Emergency Propulsion here
Energy Generation:
100 Watt 18 v Dokio Solar Panel
Aerogen 4 Wind Generator (Currently Removed)
Victron Energy Smart Solar 75/15
Mastervolt Chargemaster 12/25-3
Access to Land:
Seatec 2.5 m Dinghy
Ground Tackle :
Nala's ground tackle consist of :
1 x 12 kilos Delta with 50 meters 8 mm chain
2x 8 kilos Danforth with 10 meters and 40 meters of chain .