Prologue
This blog series will be part of my book, since English is not my native language writing is a bit challenging, any corrections are always welcome! feel free to email me at sailingnala@gmail.com.
If you like to Sponsor my book and our project you can do so by sending one-time payment through PayPal https://www.paypal.com/paypalme/sailingnala
The Dream of a Becoming Sailor : Chapter 1.1
4 long years had passed since I quit my job as a marine engineer, Greece had gone through a bankruptcy, a serious situation that delayed my voyage and put me through a lot of jobs until I manage to collect enough funds and the courage to start my Circumnavigation.
I had just completed the Aegean Rally, said goodbye to most of my friends, packed all my belongings and I took the bus to Lefkas where Nala was waiting for me, a 6-hour drive that I spent mostly planning the trip that lay ahead, I had finally found a boat that I can afford, but was she ready to cross oceans? could she carry me safely to the distant shores of my choosing? little I knew by then but was soon to figure out!
I went off the bus outside of the yard and there she was there on the cradle waiting for me, Nala has been laying on the hard for 3 years before the previous owner decided to put her for sale, he bought her back in 2000 with the plan to cross the Atlantic, spent 5 years re-fitting her and then left from Britany Franche to the med, during the trip he injured his back, a very serious injury that made it impossible to continue his dream and had to take multiple operations, he was very excited to find out that I had the same dreams and was very helpful explaining his systems and the setup for single handling.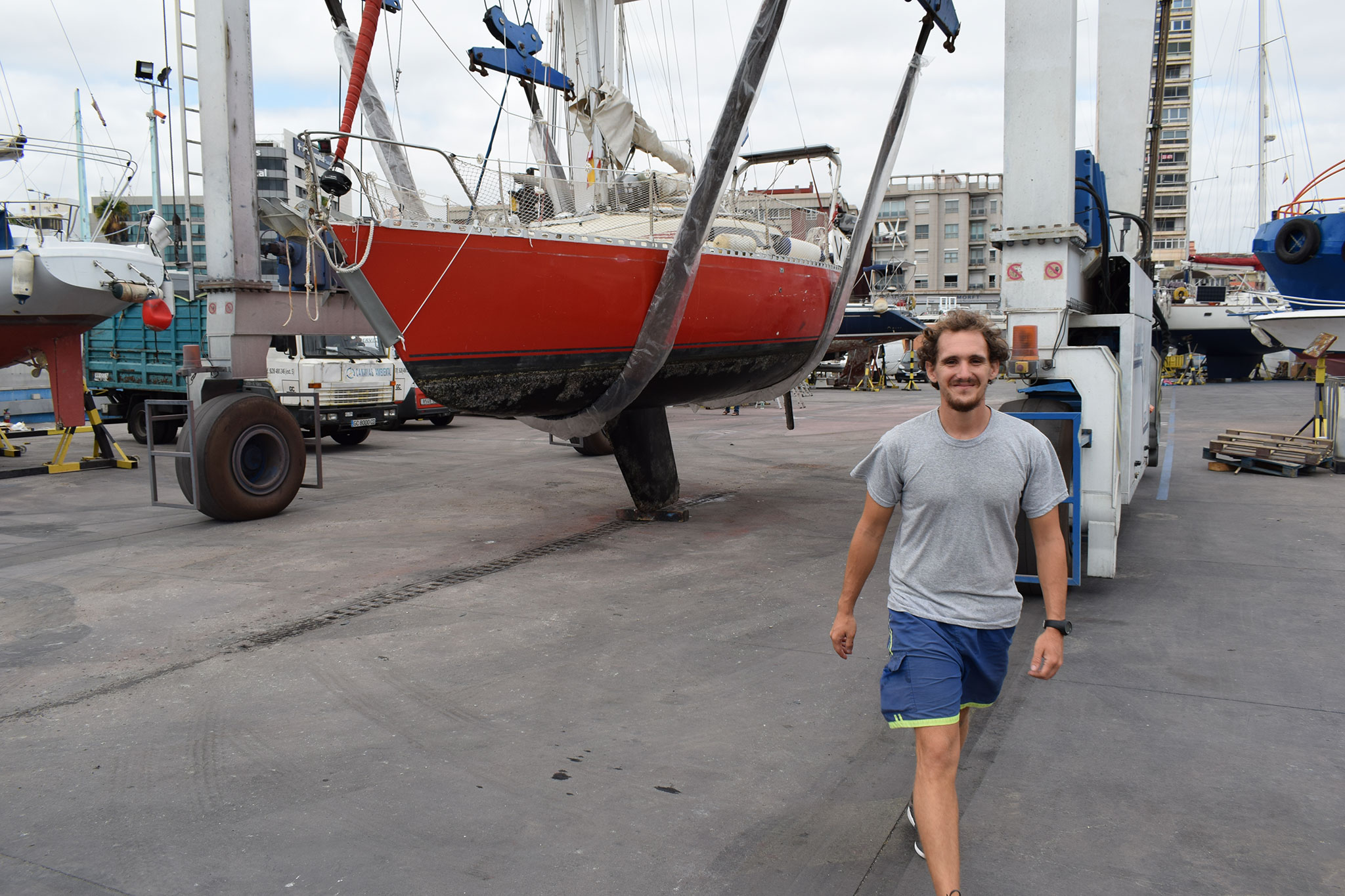 It was August, hot Greek summer but I was working every day from dusk to dawn on her, not minding the hit, and within 3 weeks she was clean and ready to be back in the water!
I couldn't be happier! this is where I took the decision to invite Stefanos and his brother Giorgos to enjoy sailing vacations in Greece with my little yacht! I had met Stefanos online while we were working developing an online game and though we spent a lot of hours coding and talking on skype we never had met in person so I wasn't very sure if to invite him was the correct decision.
Stefanos and Giorgios arrived a few days after and quickly we arranged with the yard to splash Nala back in the water, the day had finally come! my pocket cruiser was ready to spread her canvas and sail to unknown horizons! or that was what I thought, I started the motor, went to pay the yard bill and 20 minutes later the motor was dead, we spent 4 hours troubleshooting and we figure out that the problem was clogged supply cooper lines.
This is where we had the brilliant idea to use the dinghy pump to press air in the pipes and force the clog out, Stefanos was working the pump while I was on the other side telling him how it goes, the pump was working but nothing was happening for a while when suddenly I felt a thick fluid in my hand and I started shouting to Stefanos to stop pumping!!!! It was too late….. Boom! the pipe exploded and jelly diesel was spread all over me and all over the Cabin, a really stinky situation but the piper was finally free! and we manage to start the motor again! It was already too late to move to our dock so we stayed in the travel's lift dock for the night.
The next day we motored to our dock, or to tell the story right we crashed on our dock, you see till then I had been only on boats with a steering wheel, and using a tiller was very confusing, so with the help of my confusion and a bit of the current we manage to scratch Nala's bow on the concrete dock! I mild scratch that I repaired 3 years later 🙂
The next part of our trips was to Cruise the Ionian sea for 2 weeks with Stefanos, Giorgos, and Odyseas a third friend who decided to help me sail Nala to Athens, but nothing is an easy deal especially with a new to you boat! We put the sails on and soon we realized that the genoa was impossible to furl! there was a cap missing on the top of the forestay which resulted in the halyard wrapping around the stay, i was really glad that we had no wind that day!
We spent 3 days in Preveza trying to fix the issue and then gave up, and decided to sail without the roller furler so we left for Corfu, we were only 2 hours at sea when the wind picks up and we ended up beating on 35 knots of wind, quickly both Stefanos and Giorgos became seasick, feeling sorry for them(it was their first sailing trip and beating on 30-35 knots of wind on a 26 footer that can't reef properly ain't a good experience for the novice ) so I and Odyseas decided to head downwind to Lefkas instead of Corfu, so we took down the Genoa and head downwind with only the mainsail, Nala was flying and we were making 6 knots! We were very lucky to make it on time for the last bridge opening and spent that night in the Marina of Lefkas resting.
The rest days passed very quickly and were the time for Stefanos and Giorgos to return home, they took the bus from Lefkas and Odyseas and I reprovisioned for the trip to Athens, the weather was predicted to be 30-35 knots coming from the north, Perfect downwind sailing until the Corinth Canal.
To be continued………